Mesa Public Schools
Mesa, Arizona

Elementary Summer Science Institute


May 26- May 29, 1998
Mesa Public Schools provides its' 70,000 students with an elementary science program based on kits designed and refurbished by the Science Resource Center. In order to provide elementary teachers with more knowledge of the content behind each of the kits, a four-day workshop was designed with three goals in mind: 1) provide basic content knowledge, 2) provide teachers with an introduction to inquiry teaching methods, and 3) get teachers excited about teaching science to their students. These goals structured the framework of the four days:
Day 1- All 150 teachers participated in a four-hour morning session with Dr. Tony Lawson, known for his approach to teaching science through the Leaming Cycle. Teachers broke up for afternoon sessions with their specific grade levels. Synergy teachers (master teachers trained in providing science in services) worked with each grade level in providing modeling of how the kits taught at the grade level could be adapted to provide a more inquiry approach when being taught.
Days 2 and 3 - Grade-level groups participated in seminars designed to supplement their content knowledge of the kits taught at that specific grade level. These seminars were facilitated by Synergy teachers and taught by professors, secondary teachers and community people regarded as expert in specific areas. For instance, a Game and Fish wildlife manager teamed with a high school environmental science teacher to teach Desert Ecology to second grade teachers. One of our local meteorologists taught a three-hour session on weather to the first and fourth grade teachers. A high school physics teacher taught the physics of sound to fourth grade teachers. (See the attached schedule for a complete listing of the classes.)
Day 4 - This day was devoted to building the enthusiasm of teachers for science, while providing them with some basic general science knowledge and exciting "grabbers" they may use in their classrooms. Bryce Flixson, nationally known science enthusiast, lead the elementary teachers in a six-hour hands-on experience that left them excited about teaching science in their classrooms.
---
Elementary Summer Science Institute
May 26 - May 29, 1998
8:30 - 3:30 daily
K
1
2
3
4
5
6
Tuesday
May 26
Dr. Tony Lawson

Cafeteria

Application
Martha Roper & Beth Hunt

Room 204

Dr. Tony Lawson

Cafeteria

Application
*Lorraine Blomquist
*Judy Hamilton

Room 401

Dr. Tony Lawson

Cafeteria

Application
*Debbie Moncayo
*Barbara Sutphin

Room 402

Dr. Tony Lawson

Cafeteria

Application
*Pam Matsuisht
Dixie Parrish

Room 403 & 500

Dr. Tony Lawson

Cafeteria

Application
*Lynn Dillon
Joy Woods

Room 201

Dr. Tony Lawson

Cafeteria

Application
*Thea Harmon
Teri Ory

Room 400

Dr. Tony Lawson

Cafeteria

Application
*Ann Henss
Rex Seines

Room 203

Wednesday
May 27
Physical Science
Martha Roper and Beth Hunt
Adaptations
Elaine Migala

Weather
Darlene Periconi

Desert Ecology
Wendy Blasdell
Randy Babb
Investigations Applied to Physics
Dr. Gordon Johnson
Water
Dr. Gregg Elliot

Weather
Darlene Periconi

Solar Energy
Bobn Hammond

Classification
Elaine Migala

Electricity
Bill Twardy

Oceanography
Dr. Linn Montgomery

Thursday, May 28
Life Science
Martha Roper and Beth Hunt
Density I
JoAnne Vasquez

Density II
JoAnne Vasquez

Introductory Physics
Dr. Gordon Johnson

Magnetism
Dr. Gordon Johnson

Adaptations

Ecology

Arthropods
Steve Prohal

Sound
Dave Tollefson

Chemistry
Lorelet Wood
Microscopy
Rick Vanosdall
Friday
May 29
Bryce Hixson
Bryce Hixson
Bryce Hixson
Bryce Hixson
Bryce Hixson
Bryce Hixson
Bryce Hixson
---
JUNIOR HIGH SCHOOL
SUMMER SCIENCE INSTITUTE
Tues., May 26 -
8:30- 3:30
Red Mtn HS
Room 414
CASTLE (Capacitor-Aided System for Teaching and Learning Electricity) Training.
A hands-on approach to teaching electricity using kits which are designed to provide a sequence of self-guided experiments. These activities enable students to grasp the physics of current propulsion and build intuitive explanatory midels. Sections of this kit will be incorporated into the seventh through ninth grade curriculum next year. At the conclusion of the training, each school will have a class set of the equipment.
Wed., May 27 -
8:30- 3:30
Red Mtn HS
Room 414
Continuation of CASTLE training.
Thu., May 28 -
8:30 - 3:30
Cafeteria
Taylor JHS
Bryce Hixson, Synaptic Wammyworks Bryce Hixson is a Nationally-Known Science Nerd. We will spend the day with him doing numerous hands-on activities, demonstrations and attention-getters, all fun and applicable to your classroom.
Fri., May 29 -
8:30 - 3:30
Rm 206
Mtn View HS
Performance based Assessments What are they? Why should they be used in your classroom? How do you incorporate them into the curriculum next year? Jerome Shaw, Ph D., will join us from West Ed. To answer all these questions and lead us through the process of developing performance-based assessments for classroom use.
Mon., June 1 -
1:00-7:00
District Computer Lab
Internet Exploration Using either the MAC or PC platforms, you will have the opportunity to learn about and explore the many educational resources available to you and your students on the net.
Tues., June 2 -
1:00 - 7:00
Red Mtn MS
Room 414
Instructional Strategies related to NSF Standards Teachers will break into grade level groups to design activities and labs which will support the new curriculum in the fall. A compilation of these activities and labs will be made available to teachers following the workshop.
Wed., June 3 -
1:00-7:00
Red Mtn HS
Room 414
Astronomy Dr. Susan Wychoff, astrophysicist from ASU, will join us to share hands-on activities and lessons that may be incorporated in your classmom next year as part of the new curriculum.

Trekker T-4 Probes Trek-Gear will join us to present lab activities designed to support thc new cumculum. We will have a classroom set of the Trekker and probes for teacher check-out next year.

Thu., June 4 -
1:00 - 7:00
Red Mtn HS
Room 414
Continuation of Grade Level Planning
Fri., June 5 -
1:00 - 7:00
Red Mtn HS
Room 414
"Pull it all together" Day This final day will be used to integrate the previous day of this workshop. At the conclusion of the day, participants will have a tangible plan in place for incorpoting newly acquired skills into their clasmooms in the fall.
---
THE SPECIFICS
WHO SHOULD ATTEND?
Three teachers from each junior high school - ideally one from each grade level.
WHAT IF MORE THAN THREE TEACHERS WANT TO ATTEND?
Talk to Roger or Jenny - we will start a waiting list for empty slots as they develop.
HOW ABOUT $$$$$?
Teachers participating in all nine days will receive a $500 stipend, as well as 54 hours towards recertification.
ANY QUESTIONS, CONCERNS OR COMMENTS?
Please call Jenny
HOW DO WE SIGN UP?
Department chairs will submit names to Jenny by April 24
---
Summer Workshop:
Applying Computers in Education
Two Weeks

During a two week workshop, teachers will collaboratively work together to integrate technology into their cumculum. Teachers learn applications and technology as it applies to what they are teaching in the curriculum.

Workshop taught in a lab with appropriate software and Internet access.

Agenda

Day 1:
Integrating Computer Technology into the Curriculum

Specific to math and science
Looking at Standards

Classroom Management Issues

Collaborative Group Discussions

Student Assessment and Achievement
Looking over the Lesson Plan Template

(Template for all lesson plans developed)
Day 2:
Integrating Word Processing into the Curriculum

Newsletters
Flyers
Reports/Publishing Stories/Articles
Journals

Looking at Word and Publisher and how they can enhance productivity
Day 3:
Integrating Multimedia into the curriculum - math and science
Day 4:
Integrating the Internet into the curriculum- math and science

Using the Intemet as a Research/Resource Tool
Safety on the Net
Exploring the World Wide Web using a Browser
Search Engines
Designing your own Web Pages
Day 5:
Designing Collaborative Lesson plans

Integration of Technology
Collaboration among teachers
Interdisciplinary Approach to Integrating Technology
Pre-planning for lesson plans during week 2
Day 6-10:
Collaborative work in designing lesson plans for their classrooms

Teachers select a topic in math and/or science
Collaboratively they plan integrating technology into the lesson plan
Develop resources/lesson during days 6-10
Sharing of lessons the afternoon of Day 10.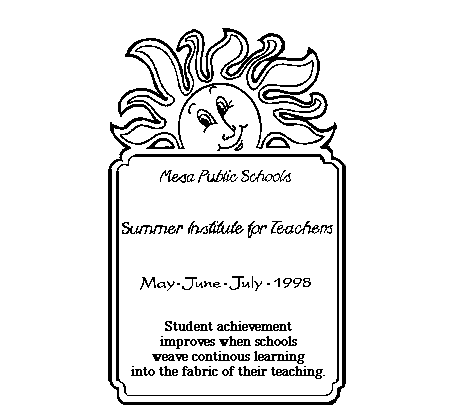 WHAT:
Calculators: An Extension of Mathematical Power
INSTRUCTOR:
Jane Schielack
COURSE INFORMATION:
Jane Schielack, a Professor of Mathematics Education at Texas A&M University, will provide a day of hands on interactive activities to assist you in leading mathematics using maipulatives and calculators as tools for greater understanding. Each activity is an integration of mathematical skills woven into an investigation where analysis of data and making inferences are encouraged. All materials are written in English and Spanish.
WHEN:
Monday, June 1, 8:00 am - 3:00 pm and
Tuesday, June 2, 1998, 8:00 am - 3:00 pm.
WHO:
3rd -6th grade teachers.
CREDIT OPTIONS AVAILABLE:
All hours are eligible for recertification hours.
COURSE FEE:
$20 - non-refundable
CONTACT HOURS:
6 hours
SPONSOR:
MSI/Basic Skills
| | |
| --- | --- |
| WHAT: | Visual Mathematics I |
| INSTRUCTOR: | |
| COURSE INFORMATION: | Participants will explore topics such as geometry, measurement, algebra, probability, statistics, numeration, number theory, computation, and estimation. Learn alternative strategies to support the district curriculum. |
| WHEN: | Tuesday, May 26 - Friday, May 29 8:00 am - 4:00 pm. |
| WHO: | 5th - 10th grade teachers |
| CREDIT OPTIONS AVAILABLE: | 2 salary schedule credit hours is available if tuition is paid. Participants may choose to enroll for the course without paying tuition and not receive credit. All hours are eligible for recertification hours regardless of credit option selected. |
| COURSE FEE: | $100.00 + $60 tuition (if credit desired). Course fee may be paid through site funds (MSI, Goals 2000, Title I) |
| CONTACT HOURS: | 32 hours |
| SPONSOR: | Career Ladder |
| | |
| --- | --- |
| WHAT: | Building Mathematical Understanding |
| INSTRUCTOR: | Ron Richard |
| COURSE INFORMATION: | Participants will explore challenging problem-solving activities that emphasize number sense, logical thinking, data collecting, and using the T182 calculator. Learn interactive, innovative strateg es to help support the district curriculum. |
| WHEN: | Thurdsay, June 4, 1998, 8:00 am - 3:30 pm. |
| WHO: | Priority to MSI Leadership Teams and 7th and 8th grade math/science teachers, then open to all interested teachers. |
| CREDIT OPTIONS AVAILABLE: | All hours are eligible for recertification hours. |
| COURSE FEE: | Funded by MSI. |
| CONTACT HOURS: | 6.5 hours |
| | |
| --- | --- |
| WHAT: | Problem Solving with Discrete Mathematics |
| INSTRUCTOR: | Vicki Graber, MSI |
| COURSE INFORMATION: | Discrete mathematics will make math concepts come alive for your students. It's an excellent tool for improving reasoning and problem solving skills. Explore real life situations and solutions using discrete mathematics strategies. Learn systemic listing and counting, color theory, networking or graphing techniques. We will explore sequencing and patterns found in nature. These strategies naturally integrate into other math strands as well as many other subject areas. |
| WHEN: | Thurs, June 4 -Fri, June 5, 8:00 a.m. - 2:30 p.m. |
| WHO: | 3rd - 6th grade teachers. |
| CREDIT OPTIONS AVAILABLE: | All hours are eligible for recertification hours. |
| COURSE FEE: | Funded by Basic Skills/MSI. |
| CONTACT HOURS: | 12 hours |
WHAT:
Opening Eyes II
INSTRUCTOR:
Math Learning Center or Pam Young
COURSE INFORMATION:
Participants will explore challenging problem solving activities that emphasize number, geometry, probability, measurement and statistics. Learn interactive innovative strategies to help support the District Curriculum.
WHEN:
Monday, June 8 - Friday, June 12, 8:00 am - 4:00 pm.
Monday, June 15 - Friday, June 19, 8:00 am - 4:00 pm.
WHO:
3rd and 4th grade teachers
CREDIT OPTIONS AVAILABLE:
2 salary schedule credit hours is available if tuition is paid. Participants may choose to enroll for the course without paying tuition and not receive credit. All hours are eligible for recertification hours.
COURSE FEE:
$150 + $60 tuition (if credit desired). Course fee may be paid through site funds (MSI, Goals 2000, Title I).
CONTACT HOURS:
32 hours
WHAT:
Box It or Bag It I
INSTRUCTOR:
Math Learning Center
COURSE INFORMATION:
This five day workshop explores wonderful mathematical resources that actively engage young children in the thinking of mathernatics and problem solving. Many successful instructional strategies are offered to support the district curriculum.
WHEN:
Monday, June 8 - Friday, June 12, 8:00 am - 4:00 pm.
Monday, June 15 - Friday, June 19, 8:00 am - 4:00 pm.
WHO:
K - 2nd grade teachers.
CREDIT OPTIONS AVAILABLE:
2 salary schedule credit hours is available if tuition is paid. Participants may choose to enroll for the course without paying tuition and not receive credit. All hours are eligible for recertification hours.
COURSE FEE:
$220 + $60 tuition (if credit desired). Course fee may be paid through site funds (MSI, Goals 2000, Title I).
CONTACT HOURS:
32 hours
WHAT:
Box It or Bag It II
INSTRUCTOR:
Math Learning Center
COURSE INFORMATION:
This five day workshop explores more wonderful mathematical resources that actively engage young children in the thinking of mathernatics and problem solving. Many successful instructional strategies are offered to support the district curriculum.
WHEN:
Monday, June 8 - Friday, June 12, 8:00 am - 4:00 pm.
Monday, June 15 - Friday, June 19, 8:00 am - 4:00 pm.
WHO:
K - 2nd grade teachers.
CREDIT OPTIONS AVAILABLE:
2 salary schedule credit hours is available if tuition is paid. Participants may choose to enroll for the course without paying tuition and not receive credit. All hours are eligible for recertification hours.
COURSE FEE:
$220 + $60 tuition (if credit desired). Course fee may be paid through site funds (MSI, Goals 2000, Title I).
CONTACT HOURS:
32 hours
| | |
| --- | --- |
| WHAT: | Opening Eyes I |
| INSTRUCTOR: | Math Learning Center |
| COURSE INFORMATION: | This five day workshop explores strategies for teaching math concepts that include classroom dialogue, designing diagrams, and drawings, as well as many spirited activities built around the calendar. Numerous successful ideas will be shared in support of the district curriculum. |
| WHEN: | Monday, June 15 - Friday, June 19, 8:00 am - 4:00 pm. |
| WHO: | 3rd and 4th grade teachers |
| CREDIT OPTIONS AVAILABLE: | 2 salary schedule credit hours is available if tuition is paid. Participants may choose to enroll for the course without paying tuition and not receive credit. All hours are eligible for recertification hours. |
| COURSE FEE: | $150 + $60 tuition (if credit desired). Course fee may be paid through site funds (MSI, Goals 2000, Title I). |
| CONTACT HOURS: | 32 hours |
| SPONSOR: | MSI |
---