| | |
| --- | --- |
| author: | Carol Fry Bohlin, Diane M. Spresser, F. Joseph Merlino, Lucy West |
| description: | Presented at the conference on Public Engagement and Mathematics Reform Las Vegas , NV April 22, 2002 By Carol Fry Bohlin, Joe Merlino, Diane Spresser, Lucy West |
| published in: | conference presentation |
| presented at: | NCTM Annual Conference, Las Vegas, NV, April 2002 |
| published: | 06/13/2002 |
| posted to site: | 06/13/2002 |
Click here for the powerpoint presentation
Carol Fry Bohlin's script:
Good afternoon and welcome to our session, "Effective Models for Designing and Implementing Standards-Based Reform of K-12 Mathematics." I'm Carol Fry Bohlin, Professor of Mathematics Education at CSU-Fresno and Co-PI of an NSF Local Systemic Change (LSC) Project in Central California. I was pleased to serve as session organizer and will act as moderator for this session.
There are two changes to the printed program. Bill Frascella regretfully cannot be with us, as he was called to testify at a recently-scheduled meeting today with Indiana's Governor and Supt. of Public Instruction. However, we are very pleased to have Diane Spresser from the National Science Foundation join our panel to provide an overview of the LSC program. As many of you are aware, the LSC initiative was primarily designed to provide teacher professional development to support the implementation of high quality instructional materials in mathematics and science. In this session, we'll focus on the mathematics LSC program. After Diane's presentation, Joe Merlino will provide an overview of the phases of systemic change within school districts, and then Lucy West will describe her LSC activities in New York City. After these presentations, we'll open the floor for questions. In case you would like to contact the speakers, their email addresses are given on the slide preceding their talks.
Diane Spresser is the Acting Director of the Division of Elementary, Secondary and Informal Education at the National Science Foundation, as well as Program Director for Teacher Enhancement in mathematics. Prior to coming to NSF in 1994, she was a professor of mathematics at James Madison University for 27 years, where she served as head of the Department of Mathematics and Computer Science for 16 years.
Diane will describe the Local Systemic Change program within the broader context of systemic reform, talk about the characteristics of LSCs and their evaluation, and share some data depicting the power of combining professional development with classroom use of high quality instructional materials.
[Diane's presentation]
Joe Merlino is the Director and PI of the Greater Philadelphia Secondary Mathematics Project, based at La Salle University, where he has taught graduate courses in curriculum design. From 1992-1998, he served as Co-Director of the Philadelphia Interactive Mathematics Program (IMP) Regional Dissemination Site at La Salle.
Joe will describe the phases of systemic change within school districts, focusing on strategies for laying the groundwork for initiating change.
[Joe's presentation]
Lucy West is the Director of Mathematics for Community School District 2 in NYC and a PI on the Reconceptualizing Professional Development LSC Project. She is a faculty member of the New Leaders for New Schools project, focused on the preparation of principals, and is a contributing author of the National Research Council's report on preparing teachers for the 21st century entitled New Practices for a New Millennium.
Lucy will describe the structure of her LSC program in NYC's Community School District 2 and share achievement trends in mathematics for the district.
[Lucy's presentation]
I'd now like to open the floor for questions. Please indicate to whom your question is addressed...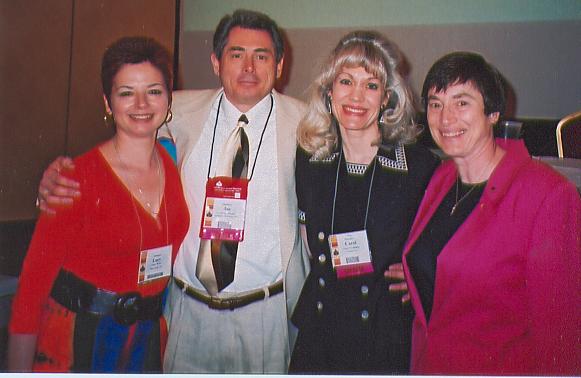 Left to Right: Lucy West, Joe Merlino, Carol Fry Bohlin, Diane Spresser